The gaming & eSports festival Level Up Salzburg has been this weekend (01. and 02.07.) and of course we have been there! Our CEO Hexis.TheHakon, Co-Founder Hexis.IAX as well as Wild Rift Coach Hexis.Moo and Wild Rift team member Hexis.Foon joined forces to bring us impressions of Salzburg and they didn't promise too much. You can check out the highlights again on Instagram, but here we want to give a little report with even more details!
With the 9€ ticket, everyone was able to travel very cheaply, but some of them needed 14 hours to arrive in Salzburg because of the local transport. But that didn't put anyone off, everyone wanted to see their Hexis crew as well as the festival!
On Saturday, at 9am sharp for the opening of the second day, all four members were gathered and eager to find out what the festival had to offer! From a Main Stage for events in the games Rocket League, Counter-Strike: Global Offensive, League of Legends as well as a Cosplay Contest and much more, to an Indie Games Area, a Retro Area and even a Tabletop Area & Card Corner, everything was represented. Some eSports organisations, such as Alpenfestung eSports or Munic eSports, were also represented. Really very cool people, be sure to check them out!
Of course we also played ourselves, both in a 1v1 tournament and casual! In the latter, we were even filmed by Red Bull Austria!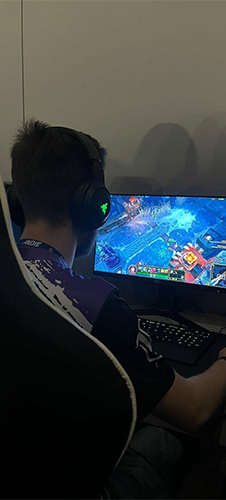 The absolute highlight for everyone, however, were the League of Legends and Counter-Strike: Global Offensive events on the main stage. It was incredible fun to experience an offline event like these, to scream and swear when your favourite wins or loses, and of course to feel the atmosphere within the crowd!
In conclusion: This definitely needs to be repeated! Level Up 2022 was a complete success and definitely a must for all eSports and gaming fans in the DACH area! See you next year Salzburg!!!